If you are new to brewing beer then you are in luck, there are some really great all-in-one starter kits on the market. Below I've listed my favorites and the ones that really do give you everything you need to brew fantastic beer.
Northern Brewer One Gallon Recipe With Equipment (Go Pro IPA)
I would recommend this kit more for someone buying a gift for someone else or if you are really on the fence about brewing beer. The only negative thing about this kit is that when you brew the beer you are likely to want to brew it again in larger quantities. So, It may be better to spend an extra 30 or 40 bucks on a larger yield kit. Still, if anyone wanted to slowly ease into the homebrewing world, this is certainly the kit for them!
In it you will get:
1 Gallon Recipe Kit
Little Big Mouth Bubbler, Bung & Airlock
Blowoff Hose
Auto-Siphon & Tubing
Bottle Filler, Capper & 20 Caps
12 Beer Bottles & 2 Carriers
2 Pint Glasses
Brewery Cleaner
Step-By-Step Instructions
Check out the latest prices and availability of this gift set on Amazon.
Northern Brewer Brew. Share. Enjoy Homebrew Starter Kit  (5 gallons)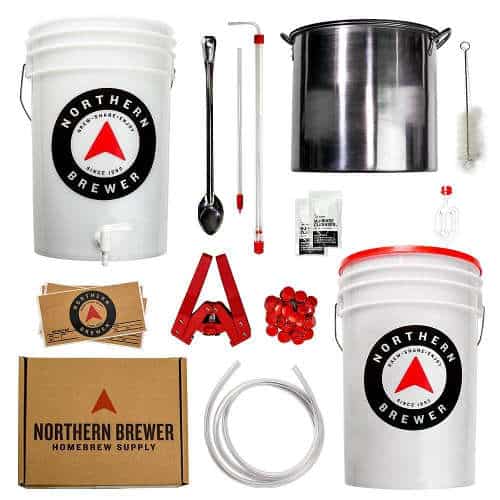 I like this kit because it really does give you all the basic equipment you need for brewing a great beer from the boil kettle to a bottle capper! The only thing you are going to have to buy as an extra are some bottles. Even these you can recycle from beers you have already drunk at home, so you don't really need to spend additional money on this kit per se.
Another bonus is that you can choose from 3 different styles of beer, I personally like all of them (Hank's Hefeweizen, Block Party Amber, And Chinook IPA). However, if you go for the Block Party Amber you can upgrade to get a hydrometer for testing the beer's density for about $10, which is worth it!
For your first piece of kit (and you will probably want to add a few additional things in the future) you can't go much wrong with this starter pack. Go to the company website or check out the latest prices and availabilities on Amazon to enjoy quicker shipping.
Northern Brewer Deluxe Homebrew Starter Kit (Most Recommended)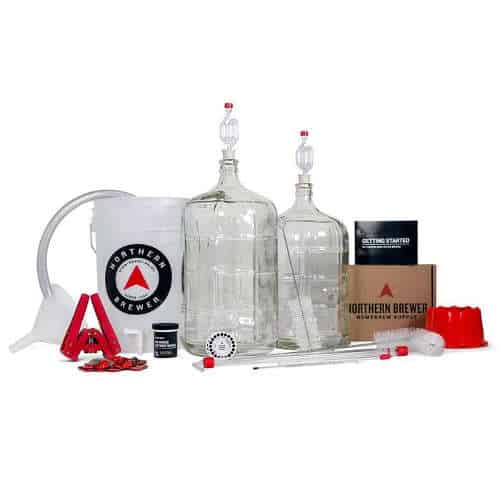 Although all of the Northern Brewer kits are very good quality and will make excellent beer, I personally feel that for most people the Deluxe HomeBrew Starter Kit is the best option. This is purely because you could buy this kit and not have to invest in any other staple brewing equipment again, with the exception of a decent mash tun (for All-grain recipes) or boil kettle (fairly cheap in local stores). The glass carboys are of a very high standard and give you the option of either brewing twice as much beer per brew beer or to brew beer that requires a second fermentation. The kit comes with the choice of one of 5 recipes included (Bavarian Hefeweizen, Caribou Slobber Brown Ale, Chinook IPA, Fresh Squished IPA, or Irish Red Ale).
So, if you are looking for slightly higher quality in your basic brewing equipment, look no further than the Deluxe starter kit from Northern Brewer. You can find out the current price and availability of the kit on Amazon and have it at your front door within a matter of days!
Want more information?
Check out my article on my most recommended starter kits where I go into even more detail on exactly which kit to choose to fit your skill set and needs.