Keeping your freshly brewed beer at the correct temperature is vital to extend its shelf life and also improve its thirst quenching properties. So, what do I recommend for keeping your beer nice and cool?
Entry Brewer
If you are just getting into brewing and aren't sure it's the hobby for you, I recommend you either make space in your existing refrigerator or get yourself a cheap or secondhand unit (Facebook Market, eBay, local yard sale). At this stage, you only need something big enough to hold about 50-60 bottles of beer. If you live in a fairly cool climate, then you don't even need a dedicated refrigerator at this stage I would say.
If you are really set on buying a new refrigerating option then look into something like a dedicated beer refrigerator or a large cooler box.
Whynter BR-128WS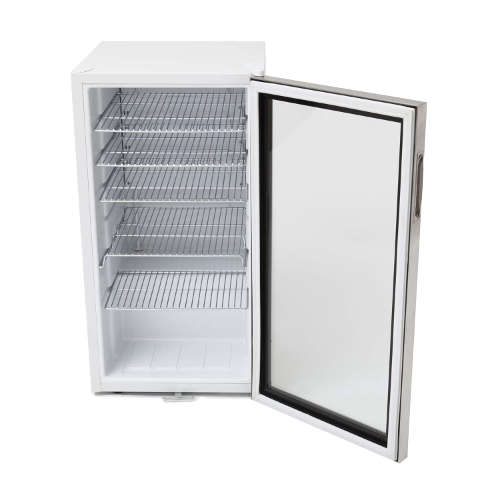 Dimensions: 18.5 x 17x 33 inches
If you rearrange the shelves you can easily fit an entire brew of bottled beer in this refrigerator and its height makes it convenient to store in a garage or basement. I got mine from Amazon and I'm very happy with it, you can see the current price for this unit by going to the site now.
Igloo BMX 52 Quart Cooler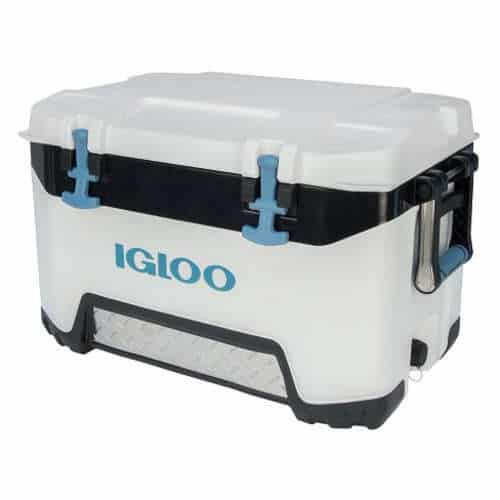 Dimensions: 26.6 x 16.9 x 16.9 inches
If for some reason you aren't able to get a refrigerator into your storage space, then working with a decent cooler is a good second option. There are many really good beer coolers on the market but I like Igloo the best. This model may not hold all of your 50 or so bottles, but if you use compact ice packs, then you will get a lot more in than by using conventional ice. Check out the current prices on Amazon and find yourself a great deal
Intermediate Brewer
Once you have a few brew days under your belt, you will probably be kegging your beer already. But, how can you keep that beautifully kegged beer at optimum drinking temperature? Enter the Kegerator!!
If you don't want to go to the effort of making your own homemade kegerator (which is really fun actually) you can get one delivered right to your door with everything you need, minus the keg of beer.
I asked around and everyone agreed that for the store bought option, you can't go far wrong with the EdgeStar.
EdgeStar KC2000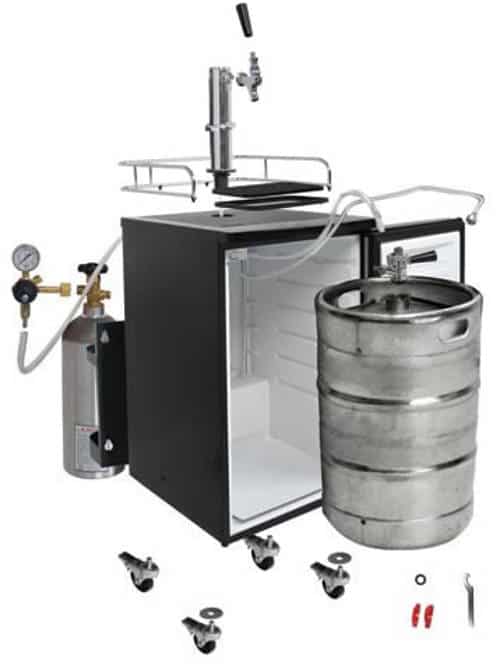 Dimensions: 48 1/2″ H x 20 1/10″ W x 24 13/16″ D
This kegerator really does come with everything you need and it fits anything from a full size (1/2 barrel) keg to a corny keg and most thing in between. The unit comes with a "D" system Sankey coupler, but can easily be converted to other kegging systems if needed. Although it is a substantial investment, the KC2000 is well built and will last you for years. You can find the latest deals on Amazon and benefit from their speedy delivery!
Advanced Brewer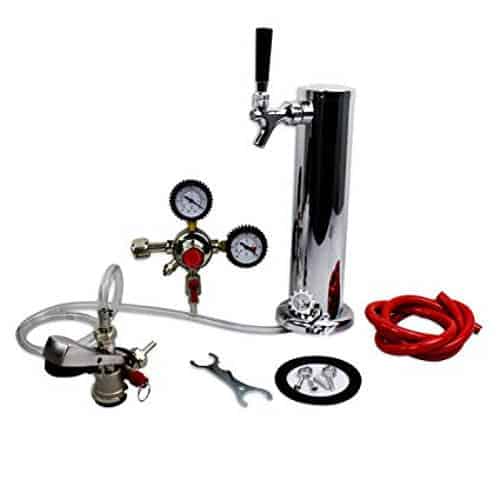 If you have been brewing for a while and are a handy sort of person, then I recommend that you convert a refrigerator or freezer into a homemade kegerator! My top pick for kits is the BACOENG Standard Tower Kegerator conversion kit although there are plenty of options on the market. See the current deals on Amazon and see if this option is the best fit for you.
A note of caution, always makes sure that you have the right tools for the job before you start your project and always read the instructions thoroughly before you begin!