Every homebrewer has had that sinking feeling when they realize they have run out of that wonderful no-rinse sanitizer, super Star San. It usually happens when you are too far gone on your brew day to stop and carry on another time.
So what can you find around the house or in the local store to keep your brew day on track?
You can find many good sanitizers in your home or in local stores to sanitize equipment. Things such as bleach, & iodine-based antiseptics can be used. Also, pure alcohol is a cheap & powerful sanitizer. There are also many food-grade sanitizers which can be found online as alternatives to Star San.
I've compiled a list below of all the possible sanitizers you can use instead of the more desirable Star san solution and based it on how easy they are to source. So read on if you are panicking right now to find an alternative now your bottle has run dry!
Sanitizers around the house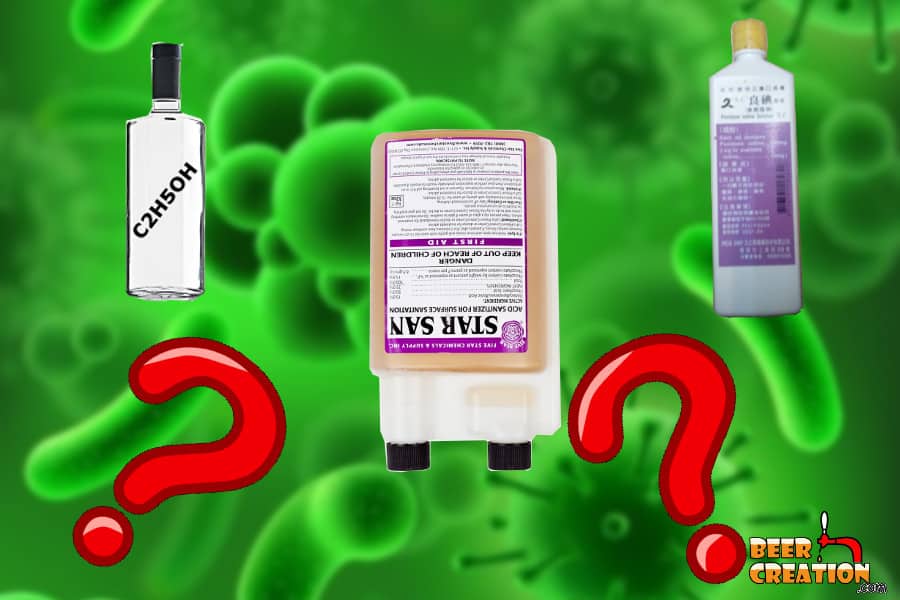 If your brew kettle is boiling over and you have to add your next ounce of scheduled hops and you've just dropped say, your wort chiller on the floor, then scream at your other half to fetch you one of these products you probably have lying around the house.
Household bleach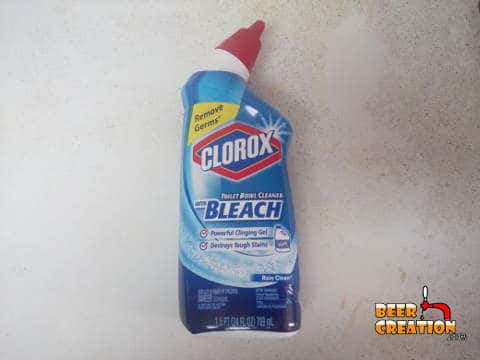 I don't know why but whenever you say this to someone, they always have the same panicked look on their faces. Can you really use bleach to clean AND sanitize something which touches in your wort or beer? Absolutely!
Bleach is a great disinfectant and thus and ideal sanitizer for brewing. However, the main drawback is that you do need to thoroughly rinse the bleach off of your equipment. Another reason why bleach isn't as good as using star san is that you need to submerge your equipment in the solution for up to 30 minutes to really kill off all the bacteria. This is compared to a mere 15-30 seconds when it comes to Star san.
Plan your next Beer Creation?
Get your brewing supplies directly from
Homebrewing.org
How much bleach to use?
Unsurprisingly you don't want to use pure bleach to sanitize your brewing equipment, in fact, you really need to dilute it and then rinse it numerous times (which is kinda depressing if you want to be ecological!)
| Bleach (fl. oz) | Bleach (US tbsp) | Water (gallons) | Water (liters) |
| --- | --- | --- | --- |
| 0.25 | 0.5 | 0.5 | 1.89 |
| 0.5 | 1 | 1 | 3.78 |
| 1 | 2 | 2 | 7.57 |
| 1.5 | 3 | 3 | 11.35 |
| 2 | 4 | 4 | 15.14 |
| 2.5 | 5 | 5 | 18.92 |
Make sure that you use a pure solution of bleach and that you are careful to avoid drips on your clothing and contact with your eyes or skin.
Oxiclean powder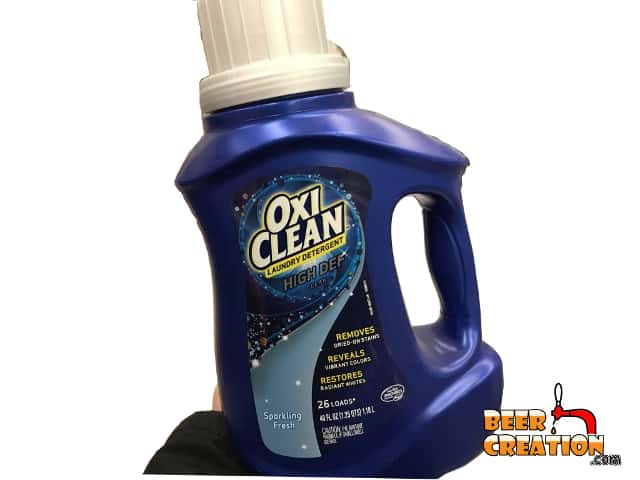 Now, not strictly a sanitizer but this product could be a temporary stock gap until you can get down to the local brew store and pick up something a bit better.
If you've dropped something somewhere you shouldn't have, then you can soak it in Oxyclean washing powder, or a similar product, making sure you use hot water. After letting it soak for a good 15-20 minutes, rinse your equipment thoroughly and it's ready to use when still wet (in fact letting it dry could allow bacteria to come back).
Again, this isn't the best solution but as I said, sometimes you just don't have any other option and a clean piece of kit is less likely to lead to disaster than a dirty and contaminated one.
How much Oxiclean to use?
| Oxiclean (Scoops) | Oxiclean (US tbsp) | Water (gallons) | Water (liters) |
| --- | --- | --- | --- |
| 1/4 | 0.25-0.5 | 0.5 | 1.89 |
| | 1-2 | 1 | 3.78 |
| 1/2 | 3-4 | 2 | 7.57 |
| | 5-6 | 3 | 11.35 |
| | 7-8 | 4 | 15.14 |
| 1 | 9-10 | 5 | 18.92 |
Be aware that this isn't a sanitizer you should use on a regular basis and you absolutely need to rinse your equipment with clean water several times after using this solution. Still, it's a hail mary when you have nothing else to hand.
Steam /boiling water
Although not widely spoken about in brewing circles, perhaps because it's a little impractical for widescale sanitation, steam is one other option.
Just as we might sanitize a previously cleaned wort chiller in the brew kettle as the wort boils, with certain pieces of kit you could certainly expose it to boiling water or steam to sanitize it. Again, this isn't an ideal solution but it could certainly work for smaller and more manageable pieces of kit.
Remember to cool down any equipment which comes into contact with your yeast (68°F/ 20°C give or take a few degrees) so that you don't affect its effectiveness later. Also, as the piece of kit in question cools, try to limit its exposure to the air as this is when it could become recontaminated.
New to homebrewing? Please feel free to read my ultimate guide to brewing beer at home and where to start.
At the local store
If you can get down to your local brew store, then the problem solved. However, even if you can only get to the local village or town, you may be able to find sanitizers in the strangest of places. If sending someone else, you can tell them to look for the following items.
Povidone-iodine
If you go into your local pharmacy you'll certainly be able to get your hands on this stuff. It's used widely in the medical field for cleaning up injuries and preventing infections in the skin. It's also a very effective brewing sanitizer.
You don't need a lot of this stuff in order to kill off all the possible germs on your brewing equipment, and it has a lot shorter soaking time than bleach, only 2 minutes or so. The only real drawback to Povidone-iodine is that it can stain plastic equipment and even your skin is continually exposed to high solutions of the stuff.
A really good thing is that Povidone-iodine is also a no-rinse solution for sanitizing your equipment. As the concentration of iodine is so low, it won't affect the smell or taste of your beer and in the doses, we are talking about it's perfectly fine to ingest within your finished beer.
Also, if you are an all-grain brewer, you can use Povidone-iodine to do an iodine test on your mashed wort to test if all starches have been converted.
How much povidone-iodine to use?
As a general rule, you want a solution of 12.5 – 25ppm (parts per million) of povidone-iodine in water, as recommended by the FDA.
Povidone-iodine
(fl. oz)

Povidone-iodine
(US tbsp)

Water (gallons)

Water (liters)

0.16

0.32

0.5

1.89

0.32

0.64

1

3.78

0.64

1.28

2

7.57

0.96

1.92

3

11.35

1.28

2.56

4

15.14

1.6

3.2

5

18.92
As a rule of thumb, you want to use about half a tablespoon of Povidone-iodine for every gallon of water. If it has a 'penny' color, then you should have diluted the iodine enough.
Ethanol
This alcohol-based sanitizer is used widely in the scientific community to sterilize laboratories and other workspaces. It's fairly cheap and you should be able to find pure ethanol in most liquor stores.
For brewing, you should use a 70% solution of ethanol to water and you can work this out based on the ABV of the liquor you can source in your local store. In the USA, Everclear is a good brand to ask to look for and normally comes in 60%, 75.5% or 95% versions.
In many ways ethanol is a perfect sanitizer, it is inexpensive, no-rinse just like Star San and won't leave an odor or stain your equipment as some iodine-based sanitizers may do.
However be aware that high proof ethanol can sometimes warp plastics if they are exposed to it for too long and can have a very slight corrosive effect on stainless steel, so make sure you don't leave these materials sitting in your ethanol mixture for too long.
The main reason that breweries as a whole don't use ethanol exclusively as a sanitizer is that it isn't as cheap as other varieties of sanitizer and it is flammable. So make sure you don't have a naked flame lit at any time when using the sanitizer, at least not near to the equipment anyway. Luckily, ethanol will evaporate very quickly, so any residue liquid shouldn't catch fire later on.
How much ethanol to use?
Note: Liter to gallon conversion are approximate!
Everclear 75.5%
Solution (gallon)

Solution (liters)

Water (quart)

Water (liters)

75.5% Everclear
(quart)

75.5% Everclear
(liters )

1

3.78

2.91

0.28

3.70

3.50

2

7.56

0.58

0.55

7.40

7.01

3

11.34

0.87

0.83

11.10

10.51

4

15.12

1.16

1.10

14.81

14.02

5

18.9

1.4

1.38

18.51

17.52
Everclear 90%
Solution (gallon)

Solution (liters)

Water (quart)

Water (liters)

90% Everclear
(quart)

90% Everclear
(liters)

1

3.78

0.88

0.84

3.10

2.94

2

7.56

1.77

1.68

6.21

5.88

3

11.34

2.66

2.52

9.31

8.82

4

15.12

3.55

3.36

12.42

11.76

5

18.9

4.43

4.20

15.53

14.70
Online
Sometimes you run out of Star San before your next brew and you just can't get hold of any in time. Personally, it costs me as much for importing Star San into Taiwan as it does to actually buy the stuff. So I have to time my purchased for when someone is flying into the country with space in their suitcase.
Luckily Star San does last a long time as you only need small quantities of it to sanitize the heck out of your brewing equipment.
However, if you are just stuck and can't get any Star San, or perhaps you want to explore some alternatives, then the next part is for you.
General alternatives (Food Grade Sanitiers)
SANI PROFESSIONAL Table Turners No-Rinse Sanitizing Wipes
These no-rinse wipes are great to have around the brewery. Not only can they be used to wipe down your brewing spaces, but they can also be used as a substitute to liquid sanitizers when you need to quickly sanitize a piece of brewing equipment. Check out the current deals on Amazon.
Johnson Diversey Beer Clean Last Rinse Glass Sanitizer
Although advertised as a glassware sanitizer, this product can also be used on metal and plastic, so is an ideal sanitizer for most brewing equipment. It's odorless but requires a rinse before using the item. Check out the current deals on Amazon.
Beer Clean Last Rinse Glass Sanitizer
You can also buy 'Beer Clean' in a plastic tub rather than packet form, this may suit you best if you need to store the powder safely for numerous uses. The packet option above may be best as a refill for your existing container. Check the difference in price by following this link to Amazon.
Member's Mark Commercial Sanitizer
This is a concentrated sanitizer that is used widely in commercial food production and service industries. It can potentially make up to 128 gallons of sanitizer depending on the level of dilution you use. It is a no-rinse sanitizer that can be used on all materials conventional brewing equipment is made from. Check out the latest deals on Amazon.
BUNZL Diversey 90234 Sani-Sure Soft Serve Sanitizer and Cleaner
This is a product that works very well to clean proteins and lactose based organic material as well as sanitizing equipment. Although originally intended for milk-based serving machines, it can work very well for most brewing set up too. It boasts a non-foaming formula but will require rinsing. Check out the latest deals on Amazon.
Steramine Quaternary Sanitizing Tablets
These tablets are great if you are producing at least a gallon of sanitizing at a time, which isn't uncommon in the brewing community on any given brew day. Just pop one whole tablet in a gallon of water and you instantly have a non-corrosive, odorless and no-rinse sanitizer. A really good option as the tablets store for a long time and are very easy to use in terms of calculating strength and dilution. Check out the latest deals on Amazon.
Lysol Antibacterial Kitchen Cleaner
Primarily a cleaner, this spray also sanitizes and is probably best kept as a general brewery cleaner/sanitizer rather than being used directly on your equipment. The main reason not to use it on, say, your fermenter, is that it does have an odor and it may possibly be transferred into your beer. Still, we all need something strong to sanitizer the actual brewing space, and this is an excellent choice for that. Check out the latest deals on Amazon.