Beer is perhaps the most ubiquitous alcoholic beer in the world (OK, I didn't check but it's a fair guess). There are many different varieties of beer but as a group, Belgian beers pique the interest of most beer lovers.
This country has given the world some of the most delicious and mind-blowing beers on the market, so what could be better than tasting these marvels in their own native land?
I personally lived in the south of Belgium (Arlon) for 3 years while teaching English as a foreign language. During my time here I saw much of the country and sampled as much of its beer as was medically safe (a few still got the better of me).
So, what follows is a detailed guide to the best spots to visit and taste beer for any length trip around Belgium, from a long weekend to a couple of weeks.
Navigate this article:
Travel tips for Belgium (Transport/Budget accommodation)
Where to find Belgium Breweries (by Province)?
I have spent about 5 days researching the best breweries to visit in Belgium and then categorized them into regions. I've added as much helpful information as I could find: Price, duration of visit, opening times, distance from Brussels and helpful tips and links.
Please note that I have also included the 6 (current) Trappist Abbeys in this list. These are not open to the public however you can still visit part of the site in many cases and a shop, restaurant or alternative has been suggested in place of a brewery tour. (buy beer from local breweries)
Plan your next Beer Creation?
Get your brewing supplies directly from
Homebrewing.org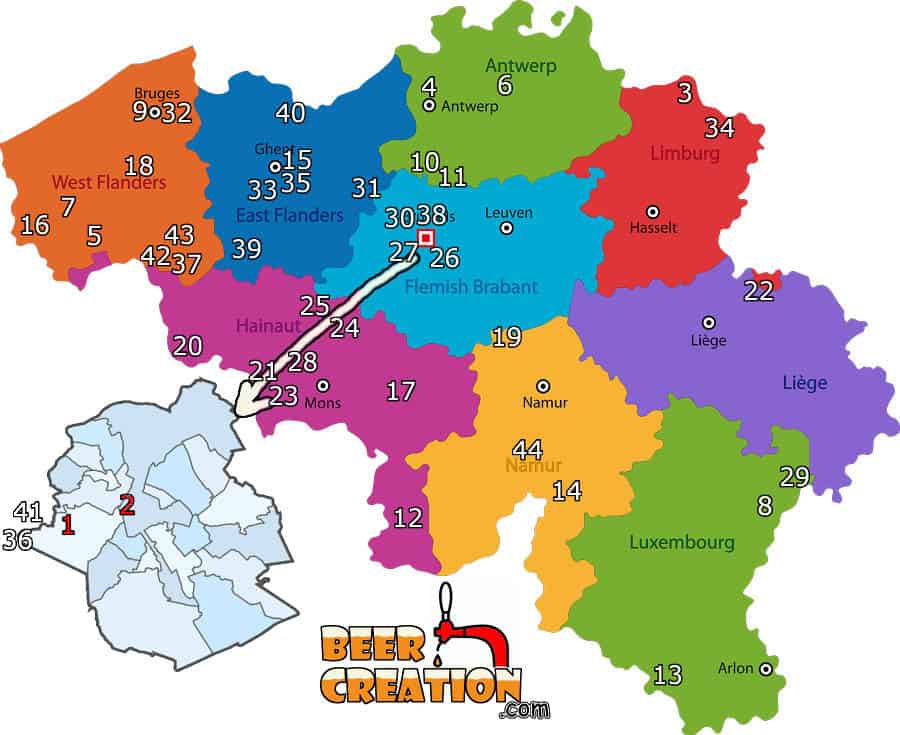 Antwerp
Brewery

Beer Varieties

Distance (Central Brussels )

Entry ($)

Visit Info.

Open

4

Blonde, Tripel, APA

50 km

€14

1.5 hours +tasting

10 am -6 pm

6

Tripel, Dubbel, Extra

82 km

No public visits

Café Trappisten hosts a video about the brewery

Every day 10 am – midnight

10

Strong blonde

25 km

€12

2.5 hour visit with special gift

Tours at 1 pm, 4 pm,(Mon-Thu), 7 pm (except Fri). 11 am 2 pm (Sat).

11

Various

34 km

€9

1 hours 45 minutes. Shuttle bus available

Tue/Wed/Thu: 11 am.
Fri: 11 am & 1 pm.
Sat: 11 am, 1 pm, 2 pm & 3 pm.
Sun: 11 am, 1 pm & 3 pm.
East Flanders
Brewery

Beer Varieties

Distance (Central Brussels )

Entry ($)

Visit Info.

Open

15

various

57 km

€ 11 (for tasting)

Different visits including boat trips and brewing classes (additional costs)

Mon -Thu: 2 pm -8 pm.
Fri- Sat: 11 am -11 pm.
Sun: 2 pm – 7 pm

31

Kwak, Tripel Karemiet, Deus

29 km

€4.50

You can sample these amazing beers in a traditional brewery

Contact them well in advance to gain access

33

Blonde, dark,

58 km

€7

2 hour tour.
Min group: 20 people

Tue-Fri: 8 am-12 pm/1 pm-5 pm.
Sat: 9.30 am -12 pm/1 pm- 5 pm

35

Delirium, Averbode bier, la Guillotine, Floris etc.

46 km

€5.33

Tours of a minimum of 15 people (€80)

Tours by appointment on weekdays

39

Blonde

58 km

€8-10

2 hour tours. Group booking during weekday/ individual tours Weekends (Dutch)

Mon-Fri: 9.30 am/2 pm.
Weekend (Feb-Dec) 10 am/ 2 pm.

40

Gulden Draak, Piraat etc.

75 km

€10

2 hour tours. Book 2 weeks in advance

Group tours (7-30) Mon -Wed: morning/afternoon
Flemish Brabant/ Walloon Brabant
Brewery

Beer Varieties

Distance (Central Brussels )

Entry ($)

Visit Info.

Open

1

Lambic/Fruity

2.2 km

€9.50

1.5 hours +tasting

10 am-5 pm. (closed Wed., Sun.)

2

Various

2.7 km

€28

2 hours group tour(6 beers)

2 pm -7.30pm (Thu, Fri; Sat)

26

Blonde, Bruin, Tripel

23 km

€-

Open door

Open daily

27

Cuvée des Trolls, Fruity beer, Blonde

84 km

€7

Group tours throughout the week, individuals Saturday

Tue -Fri: 10.30 am -5.30 pm.
Sat: 10.30 am

30

Blonde, Dubbel, Triple

24 km

€?

The brewery doesn't officially offer tours but you can sample its beer in the local abbey shop

Contact the brewery

36

Lambic beers

14 km

€60 +€4

30 minutes + tasting. Price per tour is €60 +€4 tasting

Weekdays 8 am to 6 pm. Appointments only

38

Blonde

23 km

€13.33

90 minutes.
Min Group: 15 people (€200)

Mon -Thu: 9-11/1.30-3.30/6-8
Fri: 9-11

41

Lambic beers

10 km

€8.50

Please book 5 working days before visit

Open every day by appointment (except 2nd Sunday/month
Hainaut
Brewery

Beer Varieties

Distance (Central Brussels )

Entry ($)

Visit Info.

Open

12

Blonde, Bruin

122 km

€

'Espace Chimay' bar & restaurant

Mon -Thu: 10 am -6 pm.
Fri – Sun 10 am -10 pm.

17

Belgian ales, IPA

52 km

€8

2 hours. Group tours available by appointment.

Saturdays at 2 pm and Sundays at 10.30 am.

20

Organic beer

101 km

€-

Personal tour by owner

Tours by request

21

Blonde, Bruin, Tripel, Blanche

93 km

€5

Tours ( 30 minutes ) need to be reserved

online

Sunday 11 am -2 pm

22

beers & ciders

119 km

€7

Tours available of brewer, abbey, castle. 1 hour.

Tours for groups need to be booked.

23

Blonde,Amber, bruin

93 km

€-

open door + beer tasting

8 am -6 pm

24

Belgian Ales

51 km

€-

Visit available by booking ( +32 68 25 04 80 )

8.30 am -5.30 pm (closed from 12.30 pm-1.30 pm).

25

Belgian ales

62 km

€-

Open door (2 sites)

8.30 am -12.30 pm/ 2 pm -5.30 pm( Mon -Fri)

28

Blonde, Bruin

74 km

€12.50

Guided tours on the 1st Saturday of every month. Price is extra with no reservation

1st Sat/m: 11.30 am
Liège
| | Brewery | Beer Varieties | Distance (Central Brussels ) | Entry ($) | Visit Info. | Open |
| --- | --- | --- | --- | --- | --- | --- |
| 22 | | beers & ciders | 119 km | €7 | Tours available of brewer, abbey, castle. 1 hour. | Tours for groups need to be booked. |
Limburg
| | Brewery | Beer Varieties | Distance (Central Brussels ) | Entry ($) | Visit Info. | Open |
| --- | --- | --- | --- | --- | --- | --- |
| 3 | | Blonde, Bruin | 114 km | No public visits | Public Tavern with view into brewery | 11.0 am- 4.30 pm (closed Mondays |
| 34 | | lager, Wheat beer, Belgian Ales | 112 km | €10 | 45 minute tour including tasting of 3 beers | Group tour (10 ppl)on request on Mondays to Saturdays |
Luxembourg
Brewery

Beer Varieties

Distance (Central Brussels )

Entry ($)

Visit Info.

Open

8

Various

165 km

€9

1.5 hour tour (25 places first come first served)

2 pm (Mon, Wed, Sun)

13

Belgian Ale

€6

Access to Abbey ruins, shop & museum

10.30 am -5.30 pm (times vary by season)

29

Blonde, bruin, fruity, organic

182 km

€8

Reservation required. Small

gift

included in tasting price.

Opening times based on availability of online booking tool.
Namur
Brewery

Beer Varieties

Distance (Central Brussels )

Entry ($)

Visit Info.

Open

14

Strong Belgian Ale

116 km

Abbey closed to the public

After you have seen the abbey from the outside, hit La Gourmandise brasserie in town

10 am -9 pm

19

Belgian Ales

57 km

€3

Personal tours by family or staff.

Tours by request

44

Blonde, Bruin, Tripel

95 km

Free

Visit the Abbey

Seasonal opening ours
10 am -6 pm daily
West Flanders
Brewery

Beer Varieties

Distance (Central Brussels )

Entry ($)

Visit Info.

Open

5

Blond, Bruin, Fruity

124 km

€10

1.5 hours + tasting 3 beers. English Guided tour at 4 pm

3.00 pm – 5.00 pm

7

Blonde, Dubbel, Quadrupel

141 km

No public visits

Cafe 'In de Vrede'.

10.30 am -8.30 pm (Closed Friday)

9

Various

96 km

€12

45 minutes ( Brugse Zot Blond tasting) A lot of stairs involved!

11 am – 4 pm

16

Belgian ales,

144 km

€12.50

90 minutes, maximum of 30 people. Gift included.

Weekdays afternoons only.

18

Red Ale

121 km

€10

2 hour tour on booking via

email

Various times based on request in advance.

32

Red Ale, Lambic

97 km

€9

Various ticket options & deals for early tours

Tue -Sun: 10.30 am -6 pm

37

Blonde, Brui, Tripel, Fruity

97 km

€10

2 hours 30 minutes + tasting

Mon -Sat: 10 am – 2 pm

42

Bruin, Fruity, Blonde, Amber, Pils

86 km

€12

Tours in English. Not suitable for disabled visitors.

Daily 10 am/2 pm

43

Kasteel, Bacchus, Brigand etc.

95 km

€15

90 minutes + 2 beers + gift

Tue -Sat: 10.30/2.30/4.30
The best Belgian beer festivals to attend in Belgium
Zythos Beer Festival, Leuven
Belgian Beer Weekend, Brussels
 Bruges Beer Festival, Bruges
North Sea Beer Festival, Ostend
Christmas Beer Festival, Essen
De Nacht van de Grote Dorst, Eizeringen
Brassigaume, Marbehan
Bierpassie Weekend, Antwerp
Poperinge Beer Festival, Poperinge
Modeste Bierfestival, Antwerp
Spring
Bruges Beer Festival
The Bruges Beer Festival takes place over one weekend in February (check current dates) and offers the chance to sample over 400 beers from 80 brewers in an enchanting medieval backdrop which is Bruge. The festival takes place in heat tents which are set up in the main market square as well as in the courtyard of the Belfy, city halls, the provincial court, and the Burg Square. What's more, the festival is FREE to enter!
Zythos Beer Festival
Zythos Bier Festival is a giant beer tasting experience with nearly 100 beer stands where you can sample 500 of the best beers ever brewed. It takes place in April every year and is perhaps the best Belgium beer festival available. It's child-friendly (beer served to anyone older than 16 years old) but this isn't a place for the family pet. Buy your tickets online in advance as this is a popular place to be.
De Nacht van de Grote Dorst
'The night of great thirst' is an event that celebrates beer created through the technique of spontaneous fermentation. Here you will sample some of the best traditional lambic, Gueuze, Kriek, Faro, and Framboise beers from the Pajottenland and Senne valley. However, there are also some foreign beer guests who are allowed into the festival as they follow similar techniques. Unfortunately, this festival is on a bi-yearly schedule (April) so make sure you plan your trip in the right year (2020,2022,2024, etc.)
Summer
Bierpassie Weekend
Another festival which is in its second decade and going strong is the Bierpassie Weekend in Antwerp held at the Groenplaats in June. Here you will find 20 stands offering numerous beer each for your beer tasting pleasure. What's more, your beer guzzling will be to the sound of an excellent jazz concert as well as other musical accompaniment.
North Sea Beer Festival
The North Sea Beer Festival takes place in the lovely coastal city of Ostende. Here you'll be able to sample over 200 beers from 30 breweries with the sounds of the North sea in your ears (assuming you down a couple!). The festival takes place at the end of August each year and is a great place to try great beer and good seafood. There's also plenty of entertainment for the family in the form of DJs, bands and orchestras.
Belgian Beer Weekend
The Belgian Beer Weekend is held in the heart of Brussels in the Grote Markt (UNESCO world heritage site) which is just beautiful. Not only will you get to sample some excellent beers but you will also see some interesting examples of Belgian pageantry. There are plenty of events to keep you entertained over a September weekend. The event is set to welcome 60,000 beer drinkers so make sure you claim your place at the beer stands!
Fall
Modeste Bierfestival
The Modeste Bierfestival is dedicated to the smaller breweries in Belgium as the name may suggest. Here you will be able to discover more than 25 small brewers and their fantastic beer. The festival takes place over one weekend in early October and is a really interesting experience as more than 4000 beer enthusiasts get to grips with the more modest brewing community in such a fantastic beer brewing nation.
Brassigaume
The Brassigaume festival in October has almost been going for 2 decades and is a smaller festival where you can sample 120 beers from nearly 30 master brewers over two days. Here you will discover some lesser known breweries outside Belgium but hidden gems none the less. Entry is free and you pay for what you want to taste.
Poperinge Beer Festival
The Poperinge Beer Festival takes place in October in the 'hops city' of Belgium, Poperinge. It's been going strong for more than 20 years and you can sample up to 100 beers from 25 different breweries in this idyllic corner of Belgium. Along with great beer, you'll get to enjoy wonderful food and music all for free admission, just pay for what you eat and drink.
Winter
Christmas Beer Festival
The Kerstbierfestival takes place in Essen (Belgium) near the Dutch border north of Antwerp. As you may have guessed, this is a winter festival in December. Here you'll be able to sample some very rare beers which come from the region and also enjoy a very traditional Belgian Christmas atmosphere. There is no charge to enter the festival and you just pay for the beer you want to sample.
Traveling around Belgium
By Car
If you choose to drive while on your beer vacation then make sure you choose a sober driver or share the burden among your traveling companions. Although the quickest and most convenient, you may lose out on some of the main attractions of this beer tour of Belgium.
If arriving by air, you can certainly rent a car from Brussels Airport and if you've flown with a local budget airline you may even find they have a special deal with one of the car rental firms. However, this isn't your only option.
Rent a car from a local Belgian
DrivySometimes it pays to shop around and nowadays you don't have to just deal with big companies, you can rent a car from a local. There are plenty of websites and apps which will allow you to hire a car for a few hours, days or even a few weeks at competitive prices.
Check out Getaround.com which is free to join with no monthly fees, just pay for the cars you rent. Also, look into Drivy.co.uk a sister company of Getaround. Another choice is Caramigo.eu.
Another good website for a comparison of conventional car rental offers is Easyterra.com.
If you are planning to stay in Brussels itself or within about 50 kilometers, you can look into renting an electric car. Drinking beer and saving the planet, watch you go! To be a superstar, check out Zencar.eu from €69/day (see the latest prices).
Carpooling in Belgium
If you really don't want to drive yourself around, then you can look into carpooling options. Check out BlaBlaCar.be to organize a ride in the direction you need to travel. Although this isn't like a taxi, you can usually find someone traveling between the bigger towns in Belgium and even some smaller out of the way places too. You can also organize carpooling on the following website: Carpool.be, Karzoo.be and Carpoolworld.com
By Rail
The Belgium rail system is reliable and very convenient throughout the country. If you are planning a trip between the bigger Belgian cities then jumping on the train can be a great solution. What's more, you could even enjoy a beer en route within moderation!
Weekend Ticket
Planning a short weekend stay? You can enjoy up to a 50% discount if traveling after 7 pm on Friday until Sunday evening. This ticket applies to any destination in Belgium and is available on both 1st and 2nd class tickets on all trains except the high speed one. Check out details about the weekend ticket on Belgiantrain.be
Traveling within one Belgium City or Region
If you are going to keep within only one area of Belgium's beautiful countryside, then consider a Key Card train ticket. You pay for 10 journeys upfront but each trip only costs €2.40 for a 2nd class or €3.10 for 1st class. This ticket can be used for more than 1 person, so if you are travelling to one place as a group of 5 you could really save some money! Plan your trip and see if this applies to you by visiting this link.
If you are planning to only visit Brussels, then a Jump Card is the best option as it allows you to use the entire transport network from trains to trams to buses to the metro. For Charleroi or Liège check out the City Pass.
Under 26? Great discount rail tickets for Belgium
If you are traveling alone or in a group, you can benefit from a Go Pass 10 which allows you to travel to any destination in Belgium for €5.30 each way. When you take the example of a one-way ticket from Brussels to Arlon (my old home) which cost €21, you can see the great discount you'll get!
Check out the best deals on Belgian rail tickets here
By Bus
Taking the bus is often cheaper than taking the train, but it's going to take more time and you may not take the most direct route. Still, you'll get to see more of the Belgium road network, so there's a plus a suppose.
As Belgium is divided into two main languages, so too are the bus systems. In Flanders, the major operator is De Lijn. You can get a ticket on board the bus or you can use the De Lijn app to get a discount. A single ticket currently costs €3 and an online ticket cost €1.80 via the app. You can also text 'DL' from any Belgian sim to 4884 and get a ticket for €2.15.
You can get an all-day pass for €8 as an adult on board the bus or you can purchase a twenty-four hour 'M PASS' via your smartphone for €6. If you have a Belgian sim card you can get the same pass by texting 'DLD' to 4884.
In Wallonia, the French-speaking part of Belgium, buses are run by TEC. There are three single ticket types namely NEXT which cost €2.50 and allows you to travel within a two-zone area with transfers for up to 1 hour. The HORIZON ticket is €3.50 which gives you access to the entire network (except express buses) for 90 minutes. Finally, there is the HORIZON+ for €5.50 which is for express buses. If you use a MOBIB card you can get a 50 cent discount on the ticket.
By Bicycle
Cycling around Belgium is a great way to see the countryside and if you are visiting breweries, you can often visit several in one cycling day. Some of the major cities are not as bicycle-friendly as other European cities, but the countryside roads are well maintained and absolutely lovely to explore. Fietsroute.org is a good source for bike routes and suggestions.
If you visit the Het Anker Brewery which produces perhaps my favorite beer for its historical reference, Gouden Carolus Classic, there is a very nice route in the local Mechelen area called The Gouden Carolus Route. It's a 58 km route which takes you from the Het Anker brewery to the historic béguinage, then to the palace of Margaret of Austria. From there, there are towpaths to the rivers Nete, Zenne, and Rupel which flow through the local Mechelin nature reserves. The final stop will bring you to the Molenberg Whiskey Distillery. All in all, a nice little bike ride!
On Foot
Use your thumb
Hitchhiking is perfectly legal in Belgium and is said to be easy to do. As with many other countries, the best place to hitch a ride is at roundabouts which lead towards a highway. Also hanging around a gas station is a good bet. Just say hello in Dutch and French "Dag, Bonjour!" Then explain you are not Belgium and enquire where you may be able to get a lift to. It can be a fun way to meet locals and share stories.
The way of Saint James
The pilgrimage to Santiago de Compostela in Spain has starting points all over Europe and in Belgium, the official route begins in Namur. By following the route through Namur, Profondeville, Dinant, Hasière, Treignes and finally to Oigies En Thierache you will be able to traverse 135 km of Belgium countryside on foot.
Traveling into Belgium from abroad
Coming from the UK
If you are traveling to Belgium from the United Kingdom, you can catch the Eurostar from London Saint Pancras direct to Brussels Midi/Zuid. It'll take you around 2 hours and is perhaps the least stressful way of arriving in the Belgian capital.
Alternatively you can take a ferry from Dover and drive your way through Northern France and cross into Belgium this way. The British and Belgium Capitals are only 228 miles (367 km) apart and you can easily make this journey in 5 – 6 hours.
Coming in from outside Europe
If you are flying into Belgium from the US, expect a 16-17 hour flight (with one stop) from LA and a 7-8 hour flight from New York (Direct available). Brussels international airport is the best destination as it is only a 20-minute train ride from central Brussels.
The following airlines fly direct from New York (check for current availability):
United
Delta
Air France
KLM
Brussels Airlines
Lufthansa
Budget Ideas for accommodation in Belgium
AirBnb
Whether you book an entire apartment for yourself or stay in the spare room of your host, Airbnb is fast becoming the most affordable option for visiting the world. However, this isn't always the case so you should do your homework and check the hotel rates too. My bet, however, is that Airbnb will be the cheapest way to stay in this beautiful country of Belgium.
I'm personally an Airbnb host and traveler, I really recommend that if you have the room you open your home up to guest too. Find out more here.
Couchsurfing
If you are really on a budget, then consider couchsurfing.com. This is a website where people allow you to stay in their homes for free. Often you are only given the couch to sleep on, but it's not unheard of to be given a nice clean room to sleep in for the night.
Not only does couchsurfing.com offer a free accommodation option, but often bigger towns also have a thriving community of couchsurfers who organize events and meetups. So if you find yourself in, say Brussels, at a loose end then check out the couchsurfing website for events happening near you. I personally found this very helpful when I moved to Bordeaux, France back in 2014 without knowing anyone there.
What's the best time of year to visit Belgium?
I have an intimate experience with Belgium weather from my 3-year sojourn in the country and I can tell you that it's not all doom and gloom. Although you are likely to experience some rain during a Belgian tour regardless of what time of year you visit, I have had many painful sunburns from sitting in my Belgian garden or while on a bike ride.
The best time to visit would be, as you may have guessed, late April to early October, Basically Spring and Summer. This will guarantee the best chance of sunny days and mild temperatures.
However, visiting in the offseason can be cheaper and less crowded. Many breweries keep their doors open year round and only close for public holidays such as Christmas day. Nevertheless, be prepared for low continuous stratus cloud for much of the Fall and Winter (very frustrating during my Private Pilot's training which I completed in Belgium!)