It's a fact, your beer will only be as good as the ingredients you make it from, so getting a supplier who is up to scratch is essential.
Nowadays you have a lot of options out there from brick and mortar stores to online stores and even the guy down the pub who'll sell you hops from a truck.
So below is an extensive list of where to get your brewing supplies almost anywhere in the world.
Buying supplies for your first batch of beer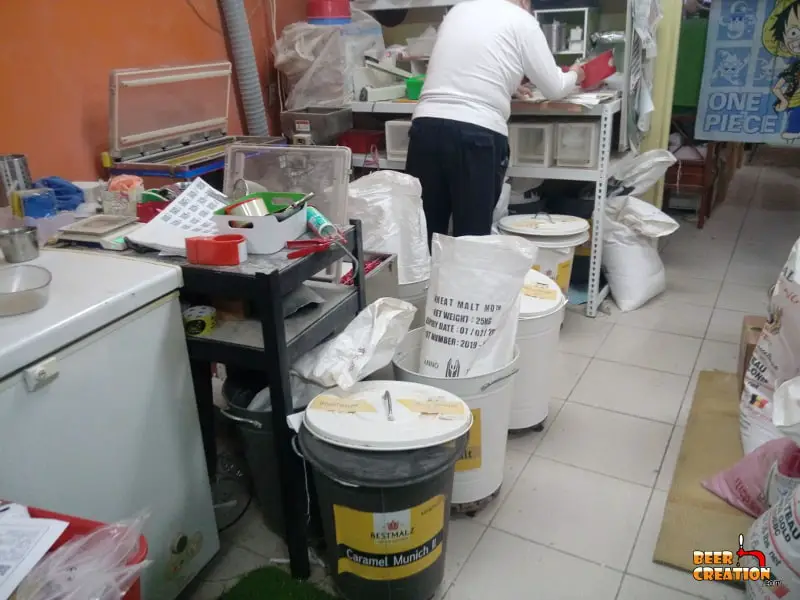 If this is your very first attempt at brewing beer and you all buying ingredients for your first all-grain batch, I really recommend you buy from a local brewing store. This isn't necessarily because the ingredients will be better, but rather the information will be.
By going into your local brewing store in person you can ask questions and get advice so that your first attempts at brewing will be even more successful. So, just bear that in mind as you read the rest of this article.
New to homebrewing? Please feel free to read my ultimate guide to brewing beer at home and where to start.
Online Homebrewing Stores – USA
In no particular order, here are the top suggestions for online homebrewing stores in the USA as chosen by the homebrewing community.
Homebrewing.org
You can find everything you will need to make beer on this website.
Plan your next Beer Creation?
Get your brewing supplies directly from
Homebrewing.org
MoreBeer!
MoreBeer was started by its founders in a shed in the backyard back in 1995 but over the decades they have grown their business beyond recognition. With large warehouses on both the East and West coasts, Morebeer can serve the entire country with ease.
MoreBeer! has a wide range of brewing ingredients and equipment and because of their sister businesses, have access to European imports of malts and hops. Expect fast shipping (1-3 days) and free shipping on orders over $59 dollars. However, this isn't the case for Alaska and Hawaii.
Midwest Supplies
Midwest supplies are based out of Minnesota but do business on a national level. The company was also founded back in 1995 and has recently partnered with Northern Brewer back in 2018 to sell some of their starter kits.
With a wide range of beer brewing, winemaking, and even hydroponic supplies, there's a lot of stock in their warehouse. Shipping is done through UPS and is calculated based on their rates and delivery times (up to 5 days to the West Coast, delivery to Alaska and Hawaii could take up to 10 days) However, there is free shipping if your order goes over $125.
Northern Brewer
Northern Brewer was founded back in St. Paul, MN in 1993 and has since grown to another location in Milwaukee, WI as well as a partnership with Midwest Supplies in St. Louis Park, MN.
Northern Brewer has an excellent range of brewing equipment but also has a very decent selection of ingredients that can be delivered to your door.
As with Midwest supplies, Northern Brewer uses UPS so expect shipping to the lower 48 states within 5 days and Alaska and Hawaii up to double that time. Northern Brewer offer free shipping on orders over $59 for the contiguous U.S. or a flat rate of $7.99 for an order under $59 (and all deliveries to Alaska and Hawaii).
Rebel Brewer
Rebel brewer is also based out of Minnesota but is perhaps a smaller operation than its local competition. In fact, this site was recommended because it can compete well with the big boys.
Expect a good range of ingredients and fast shipping times, although you may have to add an extra day if you are making a particularly large order.
Austin Homebrew Supply
As their name suggests, this is a supply store straight out of Texas and they are one of the longest established homebrewing supply stores in the state. You get a real sense that this store, certainly before the full advent of the e-commerce age, was the heart of its local brewing community. Perhaps that local community just got bigger over time!
This store has a good selection of ingredients that will enable you to brew pretty much any beer you might like to think of. In addition, they have a lot of free learning materials, which is a great bonus.
They offer fast and free shipping (over $55) to the lower 48 states but there are some exceptions to this offer both in terms of products and locations, so be sure to read the terms of service.
Williams Brewing
Based in Northern California, this store has also been around for a long time. They cater to the homebrewing community who like to make beer, wine, spirits, and even coffee.
In terms of homebrewing ingredients, the choice is quite wide and the pricing is very reasonable. In addition to that, shipping is fast, especially on the West coast. They offer a same-day shipping service and use the usual shipping carriers which will give you a delivery time within 5 days even over on the East coast.
Grape and Granary
Grape and Granary is a passion project which began in the late eighties with the founder John being an enthusiastic beer and winemaker. Despite the look of the site, it actually functions really well and it's covering up a hidden gem.
The prices are great, delivery time (as I'm told) is really good and economical. All in all, this is a nice family-run business that you can patronize while receiving an excellent service. Ideal for East coast brewers too as they are based in Akron, OH.
Local Homebrewing Stores – USA
Although there is nothing wrong with buying your supplies online, and often it's just more convenient, we mustn't forget the local homebrewing supply stores. Below is a list of some suggestions for the larger cities in the USA.
New York City/ New York State
#1 Bitter Esters
Address: 700 Washington Ave, Brooklyn, NY 11238
Telephone: (917) 596-7261
Website: https://bitterandesters.com/
#2 Long Island Homebrew
Address: 12 Bayview Ave. #649, Lawrence, NY 11559
Telephone: 516-500-7299
Website: https://longislandhomebrew.com/
#3 Cornell's Hardware
Address: 310 White Plains Road, Eastchester, NY 10709
Telephone: (914) 961-2400 
Website:
#4 KARP'S HOMEBREW SHOP
Address: 2 Larkfield Road, East Northport, NY 11731
Telephone: 631-261-1235
Website: http://www.homebrewshop.com/
#5 Pantano's Wine Grapes & Home Brew Shop
Address: 249 Rt. 32 South, New Paltz, NY 12561
Telephone: (845) 255-5201
Website: https://pantanosbeerwine.com/
Los Angeles
#1 Eagle Rock Homebrew Supply
Address: 4981 Eagle Rock Blvd, Los Angeles, CA 90041
Telephone: 323-258-2107
Website: http://www.eaglerockhomebrewing.com/
#2 Home Beer Wine Cheese Making Shop
Address: 22836 Ventura Blvd, Woodland Hills, California 91364
Telephone: 818-884-8586
Website: http://homebeerwinecheese.com/
#3 South Bay Brewing Supply Company
Address: 1311 Post Ave, Torrance, CA 90501
Telephone: (310) 328-2133
Website: http://www.southbaybrewingsupply.com/
#4 Monrovia Homebrew Shop
Address: Monrovia Homebrew Shop, 1945 S. Myrtle Ave., Monrovia, CA 91016
Telephone: +1 626-531-0825
Website: https://monrovia-homebrew-shop.square.site/
Chicago
#1 Chicago Gnome Brew Home Brew
Address: 2026 W. Montrose Ave., Chicago, IL 60618
Telephone: 773.961.7750
Website: https://gnomebrewshop.com/
#2 Brew & Grow
Address: 3625 N Kedzie Ave, Chicago, IL 60618
Telephone: 773-463-7430
Website: http://www.brewandgrow.com/
#3 The Pursuit supply company
Address: 4316 W. Irving Park Rd., Floor 1, Chicago, IL 60641
Telephone: 312.985.6652
Website: https://www.pursuitsupply.com/
#4 Chicago Brewing Supplies
Address: 4866 W. Cortland St., Chicago, IL 60639
Telephone: (773) 442-2455
Website: https://www.chicago-brew.com/
#5 Chicagoland Beer and Wine Makers
Address: 11 W. Park Blvd., Villa Park, IL 60181
Telephone: 6308340507
Website: https://chicagolandwinemakers.com/
#6 CHICAGO BREW WERKS
Address: 14903. S Center Street, Unit107, Plainfield, IL 60544
Telephone: 815-531-5557
Website: https://chicagobrewwerks.com/
# 7 Rainmakers
Address: 14730 S Cicero Ave, Midlothian, IL 60445
Telephone: (708)-925-9046
Website: https://www.rainmakerssupply.com/
#8 What's Brewing Supply
Address: 335 W Northwest Highway Palatine IL 60067
Telephone: 847-359-2739
Website: https://www.whatsbrewingsupply.com/
Houston
#1 Farmboy Brew Shop (Houson)
Address: 3814 N Shepherd Dr. Houston, TX 77018
Telephone: 832-667-8081
Website: https://farmboybrewshop.com/
#2 Farmboy Brew Shop (Katy)
Address: 19909 Morton Rd. #100 Katy, TX 77449
Telephone: 281-717-4011
Website: https://farmboybrewshop.com/
#3 The Grain Cellar
Address: 240 1st St. W., Humble, TX 77338
Telephone: 832-777-0857
Website: http://thegraincellar.com/
Phoenix
#1 Brew Your Own (Scottsdale)
Address: 8230 E Raintree Dr, Scottsdale, AZ 85260
Telephone: (480) 625-4200
Website: http://brewyourownbrew.com/
#2 Brew Your Own (Gilbert)
Address:  525 E Baseline Rd, Gilbert, AZ 85233
Telephone: (480) 497-0011
Website: http://brewyourownbrew.com/
#3 Brewers Connection
Address: 1350 E. Broadway Rd. #102 Tempe, AZ. 85282
Telephone: 480-449-3720
Website: https://www.brewersconnection.com/
#4 What Ales Ya
Address: 4925 W Bell Rd Suite D3 – Glendale, AZ 85308
Telephone: (623) 486-8016
Website: http://whatalesya.com/
Buying in supplies in bulk
Sometimes it's much cheaper to buy your grain, as well as other brewing supplies in bulk. This is particularly good if you have your own grain mill (seem my article for more details).
If you would like to find suppliers for large quantities of malts and hops, check out the site below: