Beer may be as cheap as water in some places but it contains far more carbohydrates and calories than basic H2O.
So, how exactly do you calculate carbohydrates and calories in home-brew beer? In order to calculate calories in beer, you need to know the original gravity (OG) & final gravity (FG) of the beer. With these measurements, you can calculate your alcohol by volume, calorie content & carbohydrate content. There are 7 calories to 1 ml of alcohol. Approx. calorie = (ABV x 2.5) x oz.
I have spent quite a bit of time trying to get a definitive answer as to how to easily calculate the calorie and carbohydrate content of your home-made beer. In the rest of this article, I want to share with you what I found, because it wasn't that straightforward to get the answer I was looking for.
What are carbohydrates?
Carbohydrates are one of the three macronutrients (proteins and fats being the other two) which power our bodies and are part of a healthy diet. They get their name, carbohydrates, from their chemical make up of carbon, hydrogen, and oxygen.
Carbohydrates are found in the sugars and starches or fibers of foods such as fruit, grains ( we call it beer), veggies and dairy.
Having carbohydrates in your diet is essential because they help power your central nervous system and give your muscles the energy they need during the day. Carbs are also responsible for stopping the use of protein as an energy source by the body and help us metabolize fat.
In short, we need just the right amount of carbs (135 grams for adults per day) in order to stay healthy, so cutting them out of your diet completely isn't recommended. However, it's important to eat complex carbohydrates instead of the simple carbs found in things such as white rice and pastries. This is because complex carbohydrates also have other nutrient benefits and are low in sodium, saturated fat, and cholesterol.
Luckily, the carbohydrates in beer is obtained from grain. This is considered a complex carbohydrate and doesn't fall into the "bad" carbohydrate group. Beer may even be better than wine, which is obtained from fruit and is a lesser complex carbohydrate.
Beer 1, Wine 0.
What are calories?
We've all heard the word and we know that it's what our wives use to stop us eating that second chocolate bar (or third glass of home-brew), but how does it affect our beer consumption?
Officially a calorie is determined as the amount of energy it takes to heat up 1 kilogram or water from 0 to 1 °C. So, calories are really energy that our bodies need to fuel all functions and actions.
Note: in Europe and Australia, as well as other countries, calories are measured in kilojoules whereas in the USA calories are measured in kilocalories, which is 1000 times what it takes to heat 1 kilogram of water from 14.5 °C to 15.5°C.
It's generally agreed by the medical community that adults should consume only between 1,200 -2,000 and 1,500 -2,600 calories for women and men respectively depending on activeness. You can measure this with a smartwatch nowadays, my wife got me a Fitbit Charge 3 and it's great. You can check it out on Amazon.
Check with your doctor for more information for your own personal case.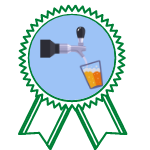 Plan your next Beer Creation?
Get your brewing supplies directly from
Homebrewing.org
How to calculate carbs and calories in your home-brew beer?
If you are making your own beer at home then you may want to, or need to, know the calorie and carbohydrate content of your latest batch. It's actually fairly straightforward as long as you have the right measurements to hand.
In order to make this calculation, you need to know the Original Gravity (OG) and Final Gravity (FG) of your beer. These are density readings of your wort/beer which are taken during the initial phase of the brewing process before fermentation (OG) and after fermentation has ended and before bottling (FG).
The Final Gravity is always lower than the Original Gravity as yeast has converted sugars into ethanol and carbon dioxide, so the carbohydrate and calorie levels would be higher in the OG than the FG.
Buy your brewing ingredients from homebrewing.org and get them delivered to your door!
In order to take these readings, you will need either a hydrometer or refractometer (or both). I've included my suggestions on my gear page.
Check out my article about what they are and how to use them effectively.
To get the total calories present in your beer you need to first calculate the calories found from the alcohol in the beer and from the carbohydrates present in your brew and then add them together.
For an approximation of the calorie content of a beer you can use the following equation:
Approximate calories = (ABV% x 2.5) * fl oz
Example: Budweiser = 5% x 2.5 = 12.5 x 12 fl oz = 150 calories
Cal per 12 oz beer = [(6.9 × ABV) + 4.0 × (RE – 0.1)] × FG × 3.55
The first item in brackets gives the caloric contribution of ethanol, which is determined from the ABV and the known value of 6.9 cal/g of ethanol. The second item in brackets gives the caloric contribution of carbohydrates, which is determined from the RE and the known value of 4.0 cal/g for carbohydrates. An empirically-derived constant (0.1) accounts for the ash portion of the extract. Together, these terms give the calories per 100 g beer. This is easily converted to calories per 100 ml beer by accounting for the final gravity (FG, in (g beer)/(ml beer)). In turn, 100 ml is converted to 12 oz by a scalar (3.55, in (100ml/12 oz)).
If you are trying to get an idea of a commercial beer's calorie content, you can also check out the chart below as a general guide. (buy beer from local breweries)
| ABV % | 1 fl oz (29.5 ml) * | 12 fl oz (354.8 ml) * | 16 fl oz (483.1 ml) * |
| --- | --- | --- | --- |
| 3.5% | 8.75 | 105 calories | 140 |
| 4% | 10 | 120 | 160 |
| 4.5% | 11.25 | 135 | 180 |
| 5% | 12.5 | 150 | 200 |
| 5.5% | 13.75 | 165 | 220 |
| 6% | 15 | 180 | 240 |
| 6.5% | 16.25 | 195 | 260 |
| 7% | 17.5 | 210 | 280 |
| 7.5% | 18.75 | 225 | 300 |
| 8% | 20 | 240 | 320 |
| 8.5% | 21.25 | 255 | 340 |
| 9% | 22.5 | 270 | 360 |
| 9.5% | 23.75 | 285 | 380 |
| 10% | 25 | 300 | 400 |
| 10.5% | 26.25 | 315 | 420 |
| 11% | 27.5 | 330 | 440 |
| 11.5% | 28.25 | 345 | 460 |
| 12% | 30 | 360 | 480 |
| 12.5% | 31.25 | 375 | 500 |
| 13 % | 32.5 | 390 | 520 |
| 13.5% | 33.75 | 405 | 540 |
| 14% | 35 | 420 | 560 |
| 14.5% | 36.25 | 435 | 580 |
| 15% | 37.5 | 450 | 600 |
*calories per measurement of beer in fl oz.
NOTE: After spending several hours searching online to find an accurate formula that is easy to follow I have to admit that I really couldn't find anything for a long time. Therefore, for the sake of your sanity, it's just best to use an app or web page calculator. Just make sure you have your OG and FG.
There are a whole host of online calculators that can do this for you, or you can download an app from the Google Play or App Store to do this on the go.
10 best home-brew recipes with calorie content
| | | | |
| --- | --- | --- | --- |
| | Beer | Potential Calories (per 12 oz) | Expected ABV% |
| 1 | | 127.8 | 4.1% |
| 2 | | 167.6 | 5.3% |
| 3 | | 129.7 | 4.7% |
| 4 | | 291.9 | 10.4% |
| 5 | | 231.5 | 6.9% |
| 6 | | 215.6 | 6.3% |
| 7 | | 215.1 | 6.4% |
| 8 | | 167.2 | 5.5 |
| 9 | | 198.5 | 8.0% |
| 10 | | 175.9 | 5.1% |
10 commercial beers with the highest calorie content
| | | | | |
| --- | --- | --- | --- | --- |
| | Brand | Beer | Calories (per 12oz) | ABV% |
| 1 | SABMiller | Tusk & Grain Barrel Aged Blend | 353 | 12.5% |
| 2 | SABMiller | Leinenkugel's Big Eddy Russian Imperial Stout | 338 | 9.5% |
| 3 | Sierra Nevada Brewing Company | Sierra Nevada Bigfoot | 330 | 10.0% |
| 4 | The Boston Beer Company | Samuel Adams Imperial White | 321 | 10.0% |
| 5 | The Boston Beer Company | Samuel Adams Imperial Stout | 308 | 9.0% |
| 6 | SABMiller | Leinenkugel's Big Eddy Cherry Doppelschwarz | 300 | 8.5% |
| 7 | SABMiller | Leinenkugel's Big Eddy Uber-Oktoberfest | 293 | 8.5% |
| 8 | Anheuser-Busch InBev SA/NV | Rascal's Wild Red | 287 | 8.0% |
| 9 | SABMiller | Redd's Wicked Apple | 277 | 8.0% |
| 10 | SABMiller | Redd's Wicked Mango | 275 | 8.0% |
Check out my article on the best clone beers you can make at home
Can alcohol be counted as one of my Macros?
As previously spoken about, our bodies need three main energy sources which it cannot produce itself, namely carbohydrates, proteins, and fats. These are known as macronutrients.
If you are trying to watch your calorie intake and have a controlled diet you may wonder how you can also drink beer. After all, the beer has to replace some other source of energy if you drink it.
So, can alcohol replace one of your "macros" and thus be counted in a stricter diet?
Yes. You can either consider alcohol to be carbohydrate or fat. As the calorie content of alcohol (4 calories per gram) is closer to that of fat (9 calories per gram), you may opt for the latter option.
To calculate this, take the example of a 12 fl oz Budweiser with 145 calories. This represents 36g of carbohydrate (145/4 = 36) and 16g of fat (145/9 = 16).
Why does beer make you fat?
For most beer connoisseurs the infamous beer belly is a common companion, but why exactly are those who drink beer more likely to pack on a few pounds?
The answer isn't really with the beer itself. In fact, drinking beer in moderation can have a number of potential health benefits. Check out my article on this topic here.
The issue is that beer has a fairly high-calorie content for all of its nutritional goodness. One pint of average strength beer (5%) represents 200 calories, which is 10% of the minimum daily recommendation of calories for men and 16.6% that of women.
That means that if you have 5 beers of an evening, which is not unimaginable with some good friends, you have drunk 50% of your recommended calorie intake for that day.
The main issue is that drinking calories such as the ones in your beer doesn't make you feel full. So, you can drink quite a lot of beer without realizing that you are going over what the doctors recommend you should be consuming per day.
Another aspect of the beer belly is that when we drink we also like to eat snacks. Alcohol also lowers your inhibitions, which makes that diet you may have following all week fly out the window when you open up some bottles of home-brew.
If you are really looking to reduce your calorie intake and still drink beer, then quality may be the best choice over quantity.
Can I lose weight and still drink beer?
It is, in theory, possible to still enjoy beer and lose weight. However, you will really need to cut down the amount that you drink.
The main issue is that when you drink alcohol it immediately stops the body's ability to burn fat. Alcohol isn't the best thing for the body, to put it mildly, and the liver will concentrate on metabolizing this first. So, all other functions, such as burning fat, is put on hold.
If you can cut your alcohol intake right down you'll give your body the time it needs to get rid of the alcohol in your system and to start burning off fat too.
Tips for drinking alcohol when trying to lose weight
Some tips you could try are to really watch how quickly you consume alcohol. If you nurse your beer over a longer time you are going to drink for less beer overall. As it takes the body about an hour to metabolize one average drink, if you pound a few beers an hour all those excess calories will be stored as fat.
Another tip is to drink plenty of water before you drink alcohol as well as while you are out drinking and then again afterward. Alcohol is a diuretic and dehydrates you, making you thirsty which further dehydrates you because you drink beer. If you keep nice and hydrated with water you will feel less desire to drink so much beer.
Apparently choosing the right shape glass can also influence how much you drink. Go for a straight-sided glass and one with the volume marked on it. This will encourage you to drink less than if you are drinking out of a curved sided glass. Also, the proportion of the beer you are drinking can affect your unconscious drinking. Make sure you plan your evening and stick to the same size beer and set your limit before you leave the house (or start drinking in the house).
Another tip is to eat plenty of protein before having a drinking session. Protein not only curbs your drinking intake it also helps eliminate alcohol from the blood and helps the stomach reduce the passage of alcohol into the blood. Protein also stimulates your liver helping it to work more efficiently.
Why does hard liquor have fewer calories than beer?
To be honest, there isn't always a big difference in the calorie content of beer and hard liquor such as whiskey or vodka. The main difference is in the calorie content of carbohydrates in beer.
As liquors are distilled rather than fermented like beer, wine or cider they do not contain the remainder of starches and sugars from that process. Without this carbohydrate content, hard liquor is nominally less calorie-rich than beer.
However, liqueurs (flavored alcoholic drinks) can be as high as beer in terms of calorie content.
Drinking beer with medical conditions, when to avoid it!
Always discuss the subject of alcohol with your doctor if you have a pre-existing condition, in some cases beer can help or harm.
Diabetes
A condition which is caused by the body's ability to produce insulin. In some cases, diabetics can drink beer both often it can be very dangerous. The main issue here is that the symptoms of being drunk and those of low blood sugar can appear to be the same. Make sure that your drinking buddies are aware of your condition.
There are also some cases where drinking while on diabetic medicine can lead to the metabolizing of methanol, which could lead to blindness. Check out my article about methanol poisoning for more details.
Sleeping disorders
If you have a pre-existing sleeping disorder such as insomnia or sleep apnea it may be wise to consult your doctor about drinking alcohol in general as it affects the body's circadian rhythm, and therefore sleep cycles.
Asthma
In some extreme cases, alcohol is known to aggravate an asthmatic's condition. This can be potentially life-threatening so it's always wise to consult a doctor if you notice a link between drinking and breathlessness.
Thanks for reading, if you found this article useful please consider sharing it on social media and pinning us on your Pinterest board.