Cooling down your wort quickly is crucial as a homebrewer, and using a pump can help you to achieve this goal more quickly. However, a pump isn't always the best option and isn't needed at every stage of cooling your wort.
In 99% of all cases, a simple submergible sump pump as used in ponds or aquariums is more than adequate for recirculating water in a wort chiller system. It's important to use a pump with a capacity of 500 GPM or more. Pump heat resistance shouldn't be an issue if the system is set up correctly.
Despite what you may read online or see in many Youtube videos, it's not as simple as sticking a pump in a bucket and reusing water, again and again, there are several things to think about to cut down your wort cooling time to a matter of minutes.
Below I go into some key ideas that you have to bear in mind when thinking about installing a wort chiller pump system.
New to homebrewing? Please feel free to read my ultimate guide to brewing beer at home and where to start.
Why do you need a pump?
The thing I hate most about brewing, and there isn't much, is that with conventional wort chillers the water wastage is phenomenal. Depending on your water supply, you could be wasting anywhere from 1 to 10 gallons a minute when using your wort chiller.
When you remember that some less efficient chillers require more than 20 minutes to reduce the temperature to anything near the target pitching temperature, that's a lot of precious water literally down the drain.
So, a pump is needed here not to force tap water through the wort chiller in question, but actually to help us as brewers recirculate water through the chiller we use. This has two main advantages: we can reduce water usage and we can utilizer colder water.
For more information on choosing the correct type of wort chiller, check out my detailed article on each model type and the ideal one for your setup.
Advantages of recirculating
As I have said, using a wort chiller in a conventional way wastes a lot of water. It's a capital crime to allow 20 to 200 gallons of water to just flow away during the average brew day when it's fast becoming the most precious resource we have on this planet. Recirculation is a cheap and simple way to manage this resource, but also reduce your utility bills too!
The other main advantage to us as brewers is that by actually setting up a recirculation system with a pump, we can now have more control over the temperature of the water which flows through our wort chiller.
If you live in the northern hemisphere, more likely than not your house's water supply isn't cold enough to cool your wort down to the average 70 °F/ 21°C or below needed to pitch the yeast in your wort. This is certainly true in Summer and perhaps less true in Winter.
The fact is that if your coolant is warmer than your target temperature, you'll never reduce the wort below the temperature of the water you use. Unless that is if you can reduce the temperature of the water itself. This is where using a pump for recirculation comes in.
Plan your next Beer Creation?
Get your brewing supplies directly from
Homebrewing.org
How recirculation works
The principle is quite simple really and doesn't have to cost you the earth to set up.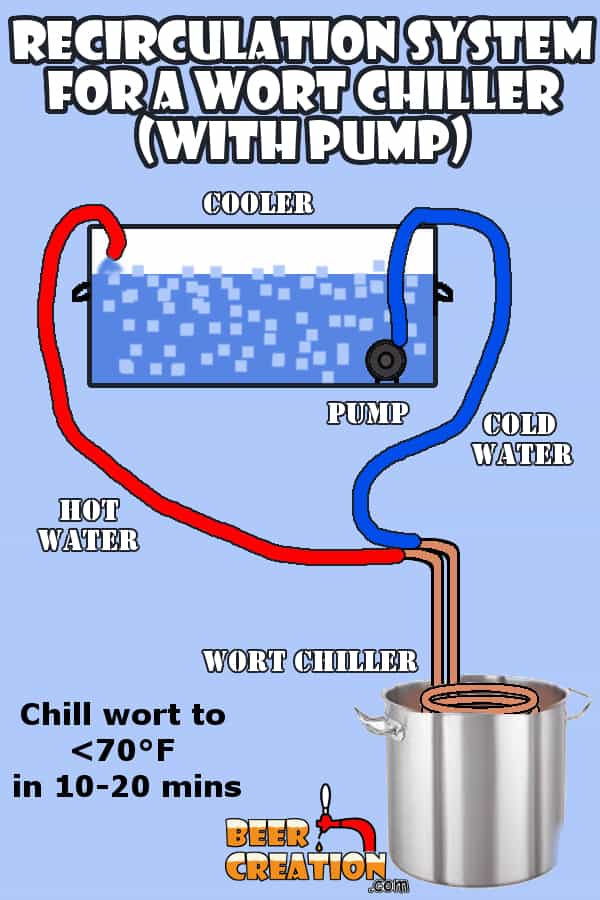 Your wort chiller, whether it's an immersion, counterflow or plate chiller model has an inlet and outlet for the water. Instead of fixing the inlet tube directly to your garden hose faucet or the one in your kitchen, it is placed in a container of ice water.
At the end of the inlet tube, you fix a pump ( a submerged pump is ideal) which forces cold water into the wort chiller. The outlet tube is also placed into the same bucket, that way the water can be reused again and again until the temperature drops to your target pitching temperature.
When to use a pump on brew day
Contrary to many of the information you'll find online, you shouldn't use your recirculation system for the entire cooling period. Well, I suppose you could, but it's going to slow down the process and make it less efficient.
The issue is that when you turn off your heat source and start cooling your wort it's going to be extremely hot, 212 °F (100°C) in fact. If you were using a closed recirculation system to cool your wort then you'd be pumping extremely hot water back into your cold water receptacle.
Even if you had a lot of ice in it, you'd soon find that you were cooling your wort with water which was slowly heating up. So what's the solution?
What you should do is to first cool down your wort to the temperature of your regular household water supply, and then only use the recirculation system after it's cooled down this much. Basically, you want the pump to get you down those final 50°F (10°C) or so. This is by far the most efficient way to do it.
Of course, whenever you aren't using a closed-off recirculation system, you should be trying to collect as much water as possible for later use, either for cleaning or watering your plants.
Alternatively, you could start off with your pump powered recirculation system and keep adding a lot of ice or bottles of frozen water to bring the boiling temperature down. This is obviously going to add crucial minutes to the cooling period, but it may be a risk worth taking to conserve more water.
Best type of pump for wort chillers
Despite what you may have thought, you really don't need anything much more powerful than a conventional pond pump. This is, of course, assuming that you aren't trying to pump water uphill or over very long distances. If this is the case for you, then invest in something with a little more strength.
In terms of capacity, it's best to get a pump with more than you need, so starting at a pumping capacity of at least 500 gallons per hour and working upward won't lead you astray.
You can find pond pumps in most good hardware stores, but below are some suggestions from Amazon in case you can't make it to a store before your next brew day, it'll probably save you some money too!
TotalPond 500 GPH Fountain Pump
SPECIFICATIONS:
7 ft. Ideal pumping height
8.7 ft. Maximum pumping height
Suction cups for mounting
built-in adjustable flow control
3/8″ or 1/2″ tubing recommended
Check out the latest deals and details for delivery on Amazon.
Hydrofarm AAPW550 550-GPH 
SPECIFICATIONS:
7.9″ L x 5.5″ W x 4.5″ H.
Rated GPH 550.
Rated Output Pressure 3.5.
Rated Wattage 33.
Voltage 120.
Check out the latest deals and details for delivery on Amazon.
GROWNEER 550GPH Submersible Pump
SPECIFICATIONS:
Voltage:110-120V
Power: 30W
Color: Black
Max Flow Rate: 550 GPH (2000L/H)
Max Lift Height: 7.2 Ft (2.2m)
Length of Power Cord: 5.9 Ft (1.8m)
Check out the latest deals and details for delivery on Amazon.
FREESEA 45W 660GPH Submersible Water Pump
SPECIFICATIONS:
Max Flow Rate: 660 GPH (1500L/H)
H-Max (Lift height): 5.9 ft (1.8M)
Power: 45 Watt
Voltage: 110 – 120 V / 60Hz
Length of power cord: 5.0 FT
Check out the latest deals and details for delivery on Amazon.
VIVOSUN 800GPH Submersible Pump
SPECIFICATIONS:
Dimensions: 4.1″ x 2.6″ x 3.5″
5ft power cord
Adjustable water flow rate knob
Max Flow Rate: 800 GPH (3000L/H),
Max Lift height: up to 10 Feet.
Watt: 24W; Voltage:110-120V.
Check out the latest deals and details for delivery on Amazon.
Simple Deluxe 1056 GPH Submersible Pump
SPECIFICATIONS:
Max flow rate: 1056 GPH
Max Lift Height 12ft
3 size threaded nozzles.83in, 1.06in, 1.34in
Pre-filter on the intake
Check out the latest deals and details for delivery on Amazon.
VIVOSUN 2600 GPH Submersible Water Pump
SPECIFICATIONS:
Power AC: 120 V / 60 Hz
AMP: 1.1 A
Power: 120 W
Lift Height: 14.8 FT/ 4.5 M
Power cord length: 6.2 M/ 20.3 FT
Check out the latest deals and details for delivery on Amazon.
More powerful Pumps for cooling or pumping wort
If you need a little more power than can be provided by a conventional pond pump, then you could opt for specially designed brewing pumps. This can be used for pumping wort through a recirculation system, but also water.
FERRODAY Magnetic Drive Pump Wort Pump
SPECIFICATIONS:
Max Capacity: 16/19 L/min—Rated Capacity: 8/12 L/min
Max Head :2.7/3.4 Meter—Rated Head:1.5 Meter
Max Temperature: 120 ℃ (248 ℉)
Outlet/ Inlet: 1/2″ inch NPT
Check out the latest deals and details for delivery on Amazon.
BACOENG Stainless Steel Pump
SPECIFICATIONS:
 1/2inch MPT Inlet&Outlet
110V/60Hz
5GPM max. flow
10W rated power
No self-priming
Do not run dry
4.75ft long 3-prong power cord.
Check out the latest deals and details for delivery on Amazon.
YalePro Home Brew Pump
SPECIFICATIONS:
3/4″ MPT inlet and outlet
fits both barbed fitting and plastic tubing
Liquid temperature: 250 °F max
Stainless steel head with Teflon washer and impeller
115 volts
4.5 feet wire
7 GPM maximum flow rate
18.6 feet maximum head
Check out the latest deals and details for delivery on Amazon.
Building your DIY recirculation system
To build a DIY recirculation system you'll need the following pieces of equipment:
– wort chiller
– cooler or similar vessel
– 10 – 20 ft of plastic tubing
– a sump pump or similar
– hose pipe attachments
– clamps (to fix tubes in place)
Step 1
Cut your plastic tubing to the desired length. Then heat up one end of a length of tubing in very hot water. This will make it easier to fit the appropriate attachments to the tube.
Now do the same thing to the other end of the tube, heat it up, and fit it to the outlet of your pond sump pump. Fit a hose attachment to the second tube, but only to one end.
Step 2
Once you have fixed all the hose attachments to your plastic tubing, fit it to your wort chiller. Making sure that, if not using an immersion chiller, you attach the water inlet tube to the corresponding inlet on your chiller and the same for the outlet tube.
Step 3
Fix the pump to the bottom of your cooler or bucket. Most models will have suction feet to help keep the pump in place. If not, you may have to tie it down or weigh it down in some way.
Also, fix the outlet water tube in place with a clamp so that it doesn't shoot out of the cooler and spill precious water all over the place.
Step 4
Fill your cooler with ice, cool packs, frozen bottles of water, etc to keep the net temperature as low as possible. Now you are ready to begin cooling your wort down to the target pitching temperature.
Note:
It's best to test your system before using it for the first time during a brew day. Check for leaks, especially on the connections nearest your wort. You want to avoid any chance of contamination or dilution of your wort, so make sure you perform this check before actually using the recirculation system.
Alternative ways to cool wort
If you can't quite afford the equipment for a recirculation system or even a wort chiller, you can check out my full article on how to cool down wort fast with and without expensive equipment.